A Tribute to the Burger and the Drivers Who Deliver Them
The burger holds a significant place in American culture and cuisine. It's often associated with backyard barbecues, fast-food chains, and diners. The versatility of burgers has allowed them to be adapted and fused with different culinary traditions, resulting in gourmet burgers and fusion cuisine.
This is not just an opportunity to celebrate one of the world's favorite sandwiches, but also to pay homage to the unsung heroes behind the scenes. It's for the hardworking truck drivers, those individuals who ensure that from the beef farms to the bread factories, every component of our beloved burger reaches its destination. In the intricate dance of supply chains, truck drivers are the essential connectors. They haul tons of fresh beef, ensuring it's kept at the right temperature and arrives at processing units in time. These professionals transport crates of fresh tomatoes, lettuce, onions, and all the additional toppings we often take for granted. They're responsible for delivering the sauces that add zest to our burgers and the buns that hold everything together. In essence, every bite we take on National Burger Day is a tribute to their relentless efforts.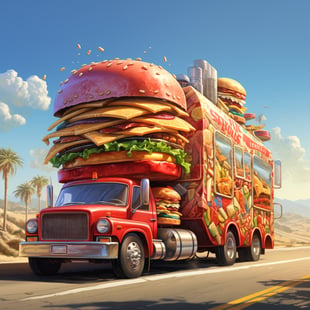 Why Truck Drivers are the Backbone
Imagine for a moment a world without these transport mavens. Supermarket shelves would be void of the necessary ingredients, restaurants would face shortages, and the simple joy of biting into a perfectly crafted hamburger would become a rare luxury. The burger, in its ubiquity and accessibility, owes much of its existence to the logistical wonders performed by truck drivers day in and day out.
For a company that serves these dedicated individuals, National Burger Day isn't just about the sandwich; it's about the recognition of the commitment and passion of our drivers. We understand the long hours they put in, the nights they spend away from their families, and the challenges they face on the road. Their work, which often goes unnoticed, is the lifeblood of our food industry.
Connecting Roads, Delivering Delights
Many truck drivers have their own tales of the road, often intertwined with the allure of the burger. From finding that quaint little diner on a desolate highway that serves the most delicious burgers to the big-city joints where they get their quick burger fix, these stories are a testament to their personal connection to this iconic food.
Moreover, their vast travels bring them face to face with the diverse range of burgers this nation offers. From the classic cheeseburgers of the Midwest to the spicy creations of the South, truck drivers have likely tasted them all. Their unique position on the road gives them a culinary journey like no other, mapping the United States not just by its roads, but by its flavors. With that thought in mind, we asked our Tranztec team about their favorite burgers. Below are some of their suggestions:
Lance Bailey, Software Developer, VIA - In-n-Out; Double Double
Deanna Newcomb, Director of Customer Success - Tremont Tavern in Chattanooga TN; Gouda burger
John Bolitho, Vice President of Marketing and Design - Wilson's Sandwich Shop Findlay, Ohio; Pickle & mustard
Dana Weyandt, Director of Contracts and Administration - 5 Guys; Single with grilled mushrooms, pickles, mayo and lettuce
John Johnson, Senior Product Analyst - Butter's Burgers in Tampa; Frogmore bacon burger with blueberry compote and gorgonzola
Paula Bartosh, Solutions Engineer - Whataburger; #4
Micheal Ingersoll, Senior Sales Consultant - Shake shack; "with the crust and oozy cheese"
Zach Compton, Director of Front End Development -
Fast food: McDonalds;

Double Quarter Pounder

Fast Casual: Five Guys
Local Dinning: Inside the Five;

Double Smashburger

All time (doesn't exist anymore): Two Foxes in BG;

Pulled Pork and Southern Cal coleslaw burger
Matt Scarborough, Software Developer, Tranztec Platform Connect - Bobby Cadillacs in Saipan
Rita Ingram, Technical Support Specialist - Tier 2 - White Castle
In conclusion, as we bite into our juicy hamburgers this National Burger Day, let's raise a toast to the silent, tireless truck drivers who make it all possible. Here's to the roads, the journeys, and the unending dedication of our country's truckers!